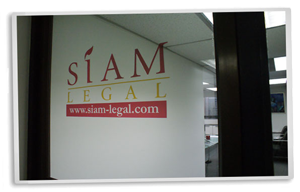 Many questions are raised with regards to retirement in Thailand . We have covered some of the basics with regards to retirement as many expats still prefer to retire in Chiang Mai as it still has a very rural setting.Chiang Mai has a Siam Legal office if you need to speak to a solicitor or lawyer in Thailand. Most in Issan normally speak to our Chiang Mai office.  Call us now tollfree!
Who can apply for a retirement visa in Thailand?
Again, just about anyone!  You have to be at least 50 years old, however you have to have  proof of retirement, and you must be able to support yourself on a fixed income which need to be proven.
What are the benefits of retiring in Thailand?
The cost of living is low in Thailand, making it quite easy to live very well on a fixed income or pension.  The housing is affordable, the scenery is beautiful, and Thailand has an enviably low crime rate.  As well, the culture is a deeply family one.  Thailand citizens have great respect for older people, and they show them the respect they are due, which makes for a very pleasant and friendly environment.
What income do I have to have to retre in Thailand?
You need to be able to prove that you have an income of at least 65,000 Baht a month. You can also deposit 800,000 Baht into a Thai Bank account and not have any income. The 800,000 Baht shows that you have the finances. You may also prove a combination of income and fixed deposit. Speak to an attorney about the calculation.
Where do most people retire to in Thailand?
This depends. The people who love the nightlife retire in Pattaya. Your average middle class couple tend to retire in Hua Hin. The wealthy tend to retire to Phuket and the people who seek a more rural lifestyle retire to Chiang Mai. Bangkok is a hit and miss as some prefer to live and retire in Bangkok when they can't let go of the rat race.
How safe is Thailand?
Thailand is very safe and Chiang Mai must be one of the best palces to retire in outside of Phuket and Hua Hin. Choose your lifestyle and what it is you want out of Thailand as no matter where you go there will always be petty crime. Major crimes in Thailand against expats are rare.
What is the cost of living in Thailand?
How long is a piece of string? Work out your monthly budget and live according to that budget. See this website for the cost of living in Thailand for a better idea. For a more detailed cost of living in Thailand there is also this one.